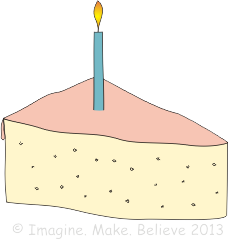 Once upon a time Janelle had another blog, but for a variety of reasons she decided to close that down and put some of the popular content here at Imagine. Make. Believe!
Cakes is one of those things that people love, and Janelle loves to make!  She has always loved to make special and unique birthday cakes for her children, as they get such enjoyment from seeing and eating them.  She also finds it a good excuse to do some baking sculpture!  She is completely self taught, and enjoys the challenge of making the cakes with totally edible decorations (or as much as possible), so she has come up with some really inventive solutions over the years.
In mid 2010, two of her children were diagnosed with coeliac disease, so this has further added to the difficulties creative solutions to ensure everything in and on the cake is totally gluten free (the gluten free cakes are marked GF).
Any names that were on the cakes have been obscured for the purpose of privacy.  If you want to copy any of Janelle's designs you will need to contact us here at Imagine. Make. Believe and ask permission first.
If you are interested in simple instructions for simple themed cakes (easy enough for children to do!), craft and great party ideas including games and party bags, you will find all this and more in our Imagine. Make. Believe magazine!