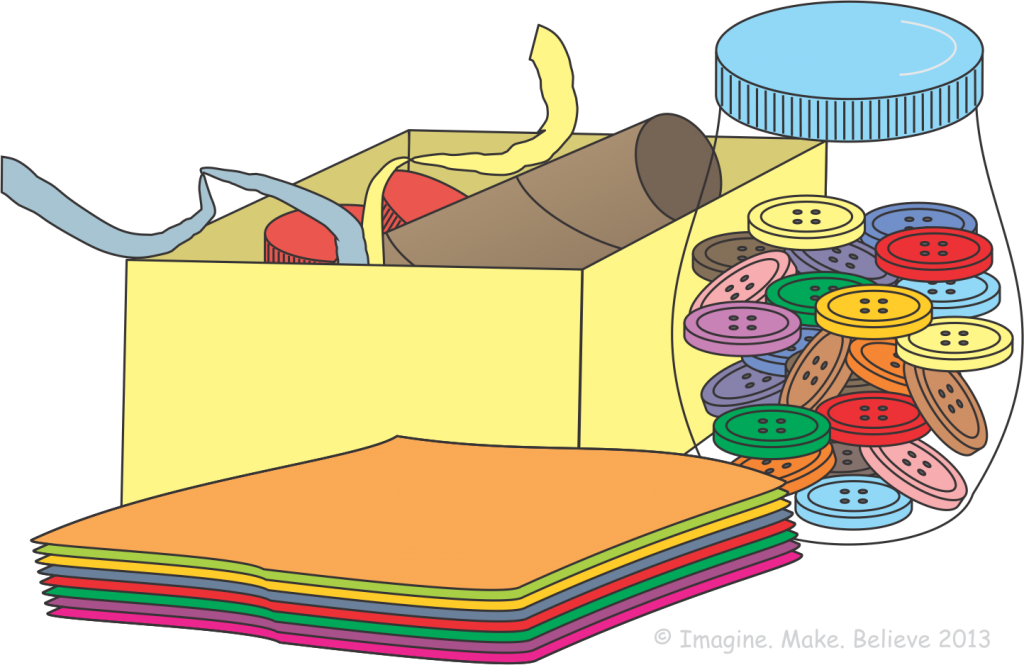 We believe in using readily available and/or cheap supplies, and we don't think having to make a special shopping trip is necessary to having fun.  Material sources are all around you, and it is often stuff that gets thrown in the garbage! We have developed this craft supplies list for our great value children's magazine, Imagine. Make. Believe, and our free tutorials.  
For our projects think about using:
Fabric – old clothes; old curtains; old sheets; op/thrift shops; scraps from family members that sew
Stuffing – polyester fill; stuffing from old toys, pillows or cushions; soft fabric scraps; packing peanuts or paper shred; bean bag beans (please use with caution, and keep away from young children).
Cord or Ribbon – old or odd shoelaces; cord from old pants or hats; hanging loops from new clothes; ribbon from presents
Buttons – op/thrift shops; cut from old clothes; parent's button jar; packet as a gift from family
Paper – used wrapping paper; old paper bags; used envelopes; old torn books; paper packaging
Cardboard – empty cereal boxes; paper towel, cling wrap and toilet paper rolls; food packaging; boxes from appliances; fruit boxes
Recycling projects – egg cartons; plastic bottles; jars; lids; plastic containers
Wire – plastic twist ties from toy packaging; pipe cleaners (chenille sticks)
Check the Craft Tool Box page for the list of the basic things you will need for every magazine.
Grab a box to hold all of your supplies, so when you want to create, you have everything you need at your fingertips!