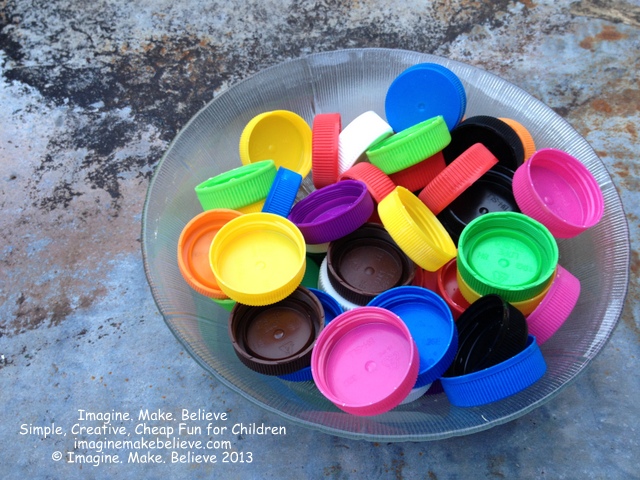 We love using free supplies here at Imagine. Make. Believe, but of course that is not always possible. We have discovered though, that much of what goes in the bin is useful craft and play material! We have a list of cheap and free materials on our Supplies List, that we use in many of our projects, and you might be surprised that at least one material from each of those categories is normally stuff that would be tossed in the garbage.  Hopefully some of that stuff you would recycle (put in the recycle bin if you have access to one, as long as your recycle service accepts the material), but we prefer to upcycle (reuse something that would normally get thrown out, and make it better) as much as possible. One of those materials is milk bottle lids or juice bottle lids.  We used to throw them in the bin too!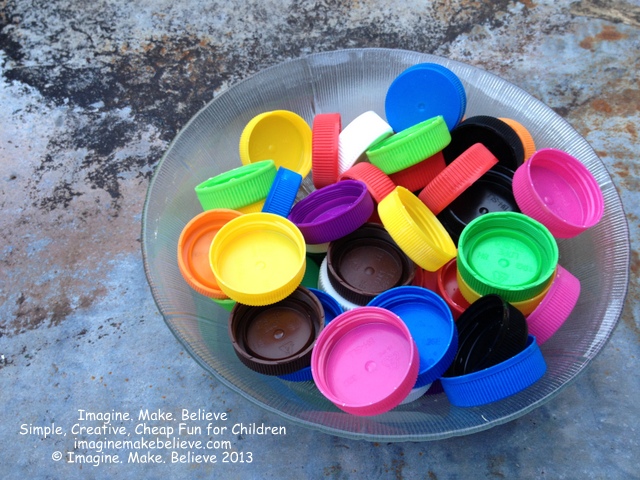 We discovered one day, that milk bottle lids have so much potential as a craft or play material, and since then, we have been washing and collecting them. We have also asked the grandparents to collect them for us too, because they get different colours to us! We also found that these lids, approximately 4.1 cm (1⅝ inches) in diameter, are on juice bottles, and often on sauce bottles and squeeze bottles.
We also learnt that they come in a huge variety of colours – green, blue, red, yellow, black, brown, orange, pink, purple, white and transparent.
So, what can you do with them?  If you have young children, they are great for learning colours or doing colour sorting activities.  We have made Father's Day key chains with them, and our Eggstraordinary Advent Calendars, and we have a number of other projects planned too.  In each issue of our 70 page Imagine. Make. Believe digital activity magazine for kids, we have a juice or milk bottle lid craft section called 'Lift the Lid', where we have at least one project that uses these lids.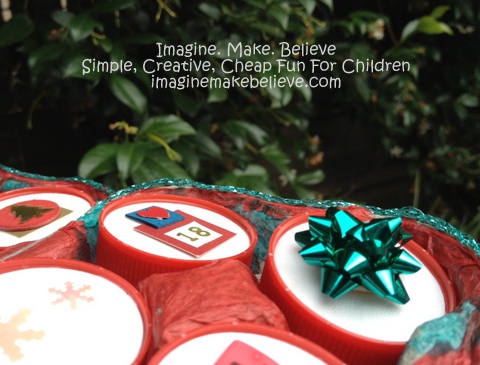 In the next issue of our Imagine. Make. Believe magazine, Issue 2 – Bugs and Beetles due out in a month, there are at least three projects with milk bottle lids.  For one of them you will need 60 lids, all the same colour.  We mention this now so you can start collecting them, because we (and we're sure you probably do to) want your children to be able to get straight into crafting and playing, and not have to wait around to collect the lids.
If it will take you a year or two to collect 60, ask your friends and extended family to start saving them for you.  We recommend that they wash them in soapy water for you (so they don't go yucky and mouldy before you collect them), or the lids and the disks can go in the dishwasher if you have one.  We try and make sure that they are positioned in the dishwasher so that they don't fly around… the cutlery drainer is often a good spot.  See how to easily remove the discs (if they have them) from the lids on our How to Remove a Milk Bottle Lid Disc page.  It helps to remove the discs before washing, as it is easier to get them clean and dry. We often use the disks in our projects, so wash them too (though sometimes they are super thin and need to be thrown in the bin), but make sure they are properly dry before storing them.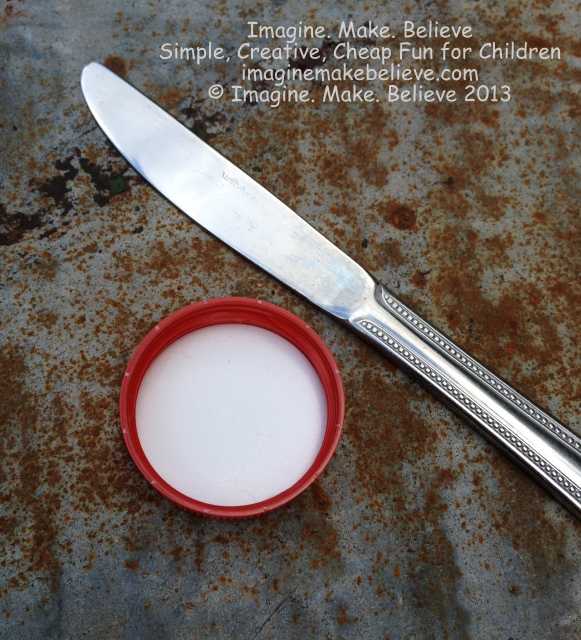 It is amazing what you can do with a humble milk bottle lid.  What do you do with yours?