Many papercraft activities require measured strips of paper or card.  Some children may not know how to measure and cut a strip of paper, so we have designed a free tutorial that they can follow.
The instructions are available by clicking on the button below.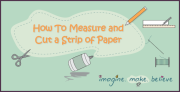 This tutorial will come in handy for our Easy Insect Antennae Headband instructions, to be released on Friday, as they use a strip of paper or card.  They are quick to make, great for dress up fun, and they go with the Imagine. Make. Believe magazine, Issue 2 – Bugs and Beetles, where you will find lots more themed activities and a whole lot of party ideas too!
If you like these 'How to Measure and Cut a Strip of Paper' instructions, you may also like others in our 'How To?' series too!
Happy crafting!