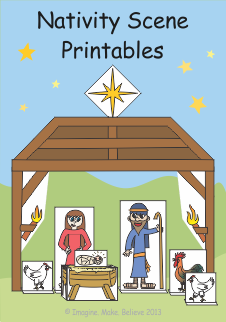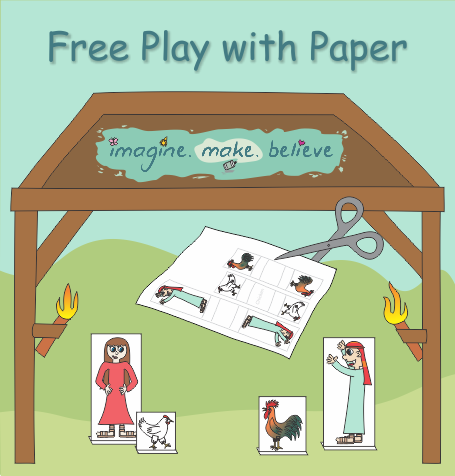 Do you love playing with paper?  We do!  We are always amazed at what you can do with one piece of paper.  It is such a versatile material!
Today we introduce you to our new Free Play with Paper series!  Free Play with Paper are free printables that you can print off and the children can cut out, glue together, and play with.  They include stand up people and animals, buildings, and other props, and can provide hours of free play, as well as help children make up their own stories.
From each issue of our Imagine. Make. Believe magazine, we will have a set of Free Play with Paper printables.  They will be available in a coloured version, as well as black and white, perfect to colour in!  Keep an eye out for our Royal Set, available soon.
Do you love nativity scenes? We love the Christmas story – the birth of Jesus, and all the miracles that surrounded his arrival into the world, and so we love nativity scenes too, as they remind us of this precious story.  If you don't know the story, head over to this link for the historical account.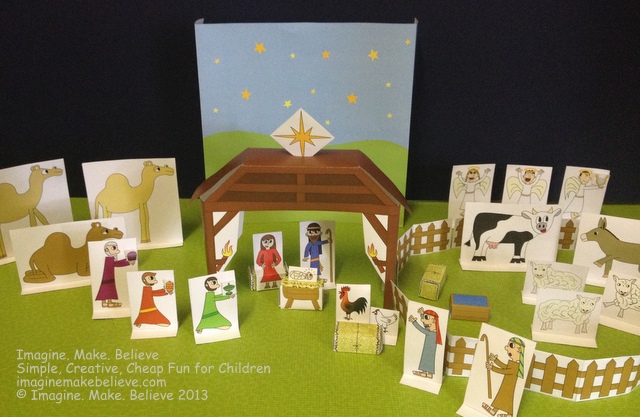 JJ, our 11 year old team member, and Janelle have been hard working behind the scenes to bring you a very cute set of nativity scene printables!  
All you need is a printer connected to your computer, scissors and glue (we used a glue stick), and if you choose the black and white version, coloured pencils, felt tip pens or crayons.
With our nativity scene printables, we have tried to include all aspects of the Christmas story, with the Magi (wise-men), the star, the shepherds and the angels that appeared to them, the animals, the manger (feed trough), Mary, Joseph, baby Jesus and a background scene.  That means your children can act out the whole Christmas story with all the paper pieces, but they can also use them with our other Free Play with Paper sets once they are available.
To get started, click on one of our nativity scene printable buttons below.
We would love to hear what you think of our nativity scene printables, and it would be great if you could send us a photo if your children do anything super creative with them!