For some reason, we have three children doing 'Secret Santa' (a secret gift swapping event) at school this year, which is unusual for us.  Instead of going out and buying some trinket, the kids decided to give away one of their Puffy Cupcake Pincushions (pattern available soon) that they made during the last school holidays.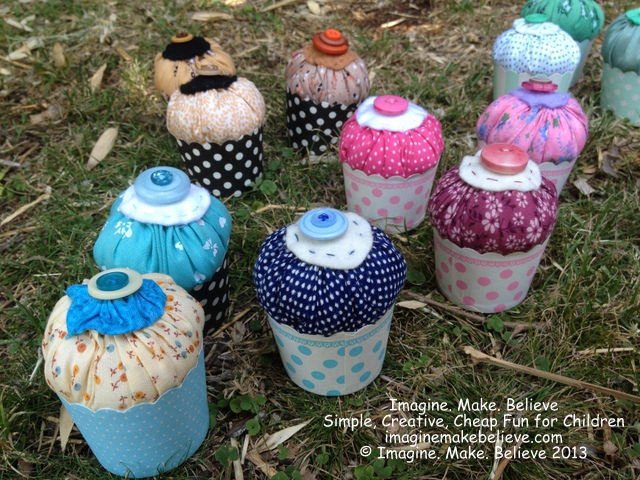 Normally, we would wrap Christmas presents in Christmas paper, however there are a couple of problems with this.  The first is that we have been living out of boxes for the past nine months, and the Christmas paper is in one of the bottom boxes.  There wasn't much energy or time this week to go and fish for the paper, and we could go and buy some instead, but we would rather use what we already have, or make do with something else that could be used instead.  The second issue is that these cupcakes are hard to wrap!  
Janelle loves coming up with creative solutions to interesting problems, so she got thinking about Christmas gift wrap ideas.  Within seconds she thought that a brown paper bag would be a perfect solution for the wrapping paper problem, because it is quick (already in the cupboard and easy to access), cheap ($2 -$3 for a packet of 100) and easy (no need to wrap an awkward shaped item – just pop it in the bag)!  There is one problem though!!  
Brown paper bags are not very pretty or Christmassy!  So the first paper bag was decorated with Christmas stickers!  The gift wrapping for a teenage girl, however, needed something a bit more age appropriate.  One glance around the room and Janelle's eyes saw the containers full of buttons!  One thing led to another, and in no time at all, the teenage boy had a pretty Christmas package ready for the teenage girl, for the Secret Santa swap!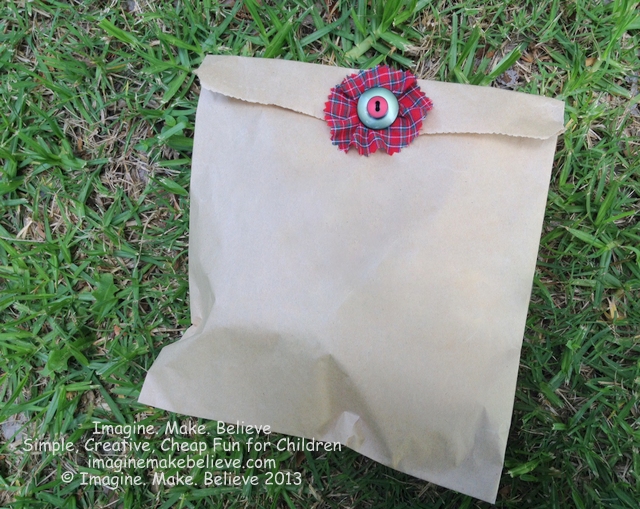 All you need is:
Brown paper bag
One or two buttons
Small circle of fabric
Matching thread (knot the ends together)
Needle
Scissors (to cut thread)
Gift
Place the gift in the paper bag and fold down the edge.
Gather the fabric circle with a running stitch as shown in the diagram.
Position the gathered fabric circle on the paper bag (make sure the gift is inside).
Place buttons on top of fabric and stitch through all layers of bag, buttons and fabric.
See our basic How To? posts for sewing on buttons, starting a thread, knotting a thread, running stitch, etc.
You will now have a sealed gift, with a pretty handmade decoration.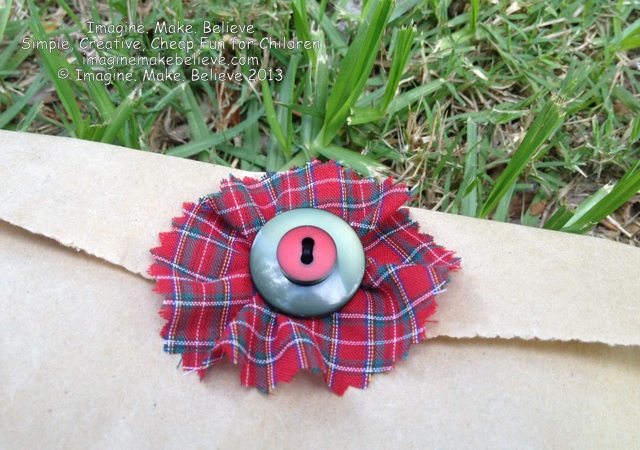 More Christmas gift wrap ideas on our website… coming soon!