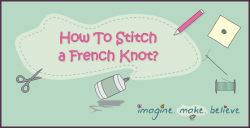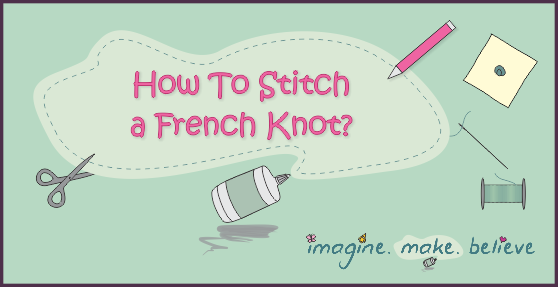 The useful, but dreaded French knot!
Do you avoid French knots, because you can never get them looking nice? Maybe you have never been taught how to stitch one?  Or maybe you would like to teach your children this useful stitch?
French knots are the perfect stitch to represent small round objects in your stitching and embroidery, like eyes on a person or animal, spots or dots on tea cups, clothes and other items, or small flowers in a garden.  The uses are endless, and there are many stitching patterns that include French knots.  We have used them as eyes on the stitched three-dimensional caterpillar that you can find in the Imagine. Make. Believe – Issue 2 – Bugs and Beetles magazine, as well as on the small ladybug stitching template that you can also find in that issue.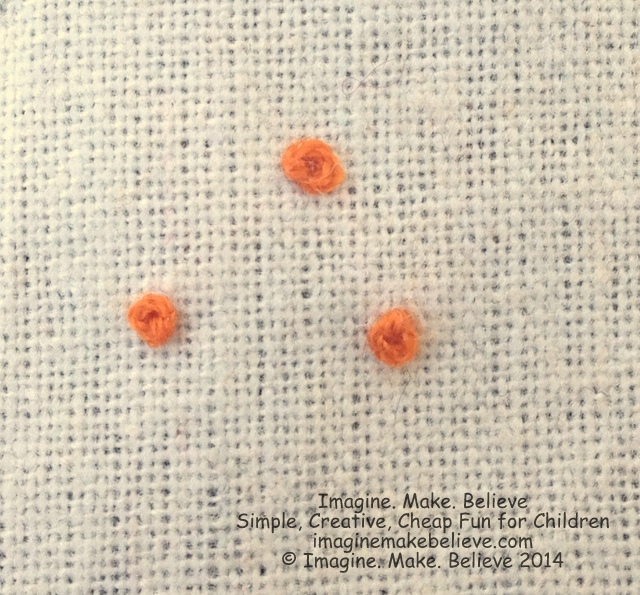 At a young age, Janelle was fortunate enough to be taught how to stitch a French knot by an expert, her mother, Val Laird. Janelle has in turn, taught each of her children how to stitch a French knot too, as the need has arisen.  What she has discovered is that:
French knots can be taught to 6 and 7 year olds.
French knots stitched by children can be as good as, or better than those that have been done by adults.
French knots aren't as hard as you think.
French knots are easy if you know what to do with the thread and the needle.
With a little practise, anyone can stitch a French knot!
Our How to Stitch a French Knot tutorial goes through each step with instructions and diagrams, and is easy enough for children to follow.  To get started, click on the button below to access our free tutorial.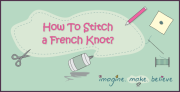 We hope that after a little practise, French knots won't be the dreaded stitch any more, and that you will feel confident to stitch them, whenever the opportunity presents itself.  Let us know how you go, in the comments below!