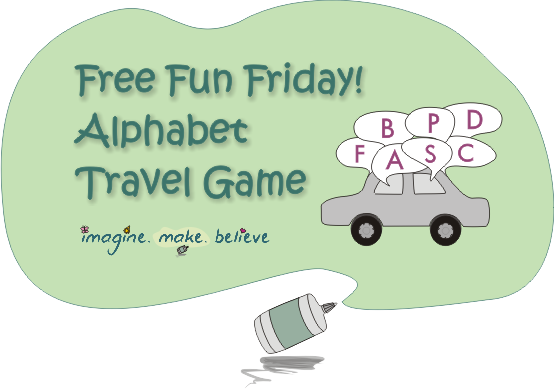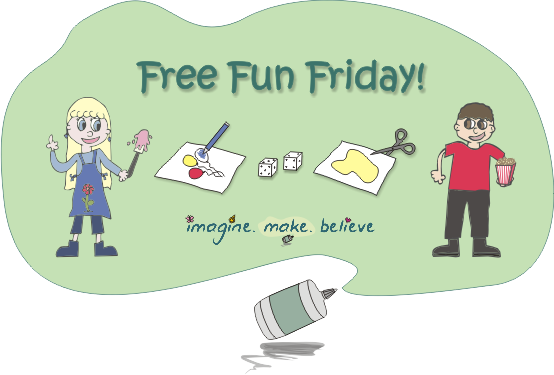 Welcome to Free Fun Friday!  Sometimes we come up with ideas that don't fit in our magazine Imagine. Make. Believe, because they don't suit the theme or we already have enough projects.  We decided we would like to share some of these ideas with you on Fridays, for free, and for fun!  They may be a game, a craft, a sewing project, or a printable, or something completely different, so come back every Friday so you don't miss any… and tell your friends about Free Fun Friday!
Most Friday nights we travel about 15 – 20 minutes in the car, to drop one person at youth group, and the rest of us go to a friend's house.  This isn't very far, but it is the end of the day, and the week, so some of us are feeling a little tired and grumpy.  Sometimes, when one person gets bored in the car, they may annoy their brother or sister or parent, just for the fun of it.  This is never a great idea, because they will probably get in trouble, and it is not normally fun for the other person, especially when they are tired and grumpy.   We came up with this fun Alphabet Travel Game to fill our Friday car trip, which is great because it keeps eyes and minds busy, and is a fun way to practise the alphabet.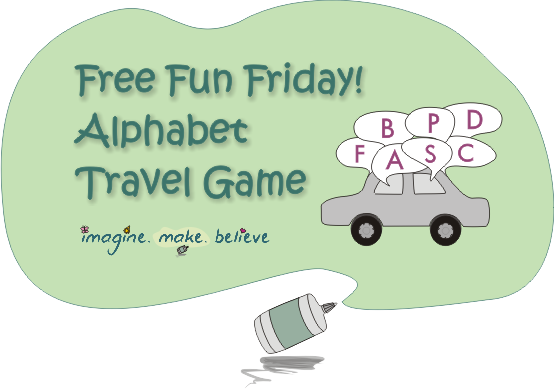 Aim of the Game:
To be the first to complete the alphabet by finding letters on signs or number plates.
What You Need:
A vehicle to travel in

Knowledge of the alphabet and be able to recognise letters.
Rules of Play:
Starting at the beginning of the alphabet, call out the first letter when you find it on a sign or number plate outside your vehicle.  For example if I saw a sign that said 'Brainy Soup', the first letter of the English alphabet is 'A', so I would call out 'A', and then, 'B' because that letter is also on the sign.  There is no 'C' on the 'Brainy Soup' sign, so I would have to wait and find 'C' somewhere else.  Another person in the car may not see the 'Brainy Soup' sign, but they may have found a different sign that said 'You can buy it now!', so they would call out 'A', 'B' and 'C' because all those letters are on that sign.  They would then have to wait and find a 'D' somewhere else.

Each person is trying to complete their own alphabet, and they call out the letter they are up to, when they find that letter.

Letters can not be found on or in the vehicle you are travelling in.

You have to see the actual letter to call it out.  That means you can't guess, and you can't remember letters from another sign that you saw earlier.

Once you have completed one alphabet, you can keep going onto your second and third alphabet.  Sometimes one person will be on the first alphabet, when you are nearly finished your second.  It can be really easy and quick to catch up though.

If no-one else in the vehicle wants to play, you can play the game by yourself, but don't call out the letters, as that can be annoying to others when they are not playing.  Say them in your head, and see how many alphabets you can complete before you get to your destination.
Have a fun Friday!