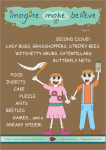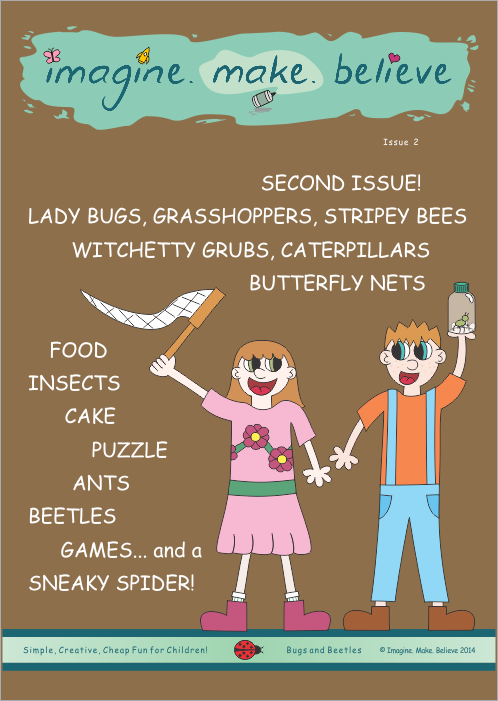 Excitement has been building behind the scenes for some time now, as the second issue of the Imagine. Make. Believe magazine has been coming together.  We are pleased to announce, it can now be purchased from our online shop.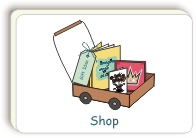 We have based Issue 2 around the theme 'Bugs and Beetles' and it has been a joy to see some of the projects come to life, not quite literally!
Expect to see a very insect orientated issue, that includes themed food like luscious ladybugs; witchetty grubs; dried roaches; a caterpillar cake; and more!  The food does not contain real insects though, so there is no need to get squeamish!

We have instructions and diagrams to make spiders; ants; ladybugs; grasshoppers; caterpillars; and butterflies from supplies out of your supplies box; games to play; a crossword puzzle; a comic; finger puppets; and so much more.
If you are planning on a bug, beetle or insect party, our magazine can help you to organise a stress free party, because we give you all the ideas, recipes and games you need, to run an affordable themed party with all the fun.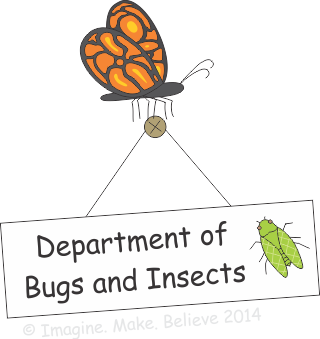 Magazine Features
An inexpensive, digital, downloadable activity magazine aimed at 5-11 year old children.*
70 pages of fun!
Full of activities – recipes, games, craft, drama, stories, puzzles, sewing, party ideas and more.
Each issue contains a different theme… perfect if you want to use the ideas for a themed party.
Materials are easily obtainable, cheap or free, and often what can be found in the house.  No special shopping trips needed.
Children have been involved in creating the designs and projects.
Advertisement free.
Cheaper than two ice-creams!
Great gift idea!
Simple, creative, cheap fun for children.
Magazine Format?  
The magazine is digital and is a downloadable pdf file.  It contains 70 pages of diagrams, templates and instructions, and is approximately 17 mb in size.  We also have a print friendly version available for your use.  When you purchase an issue, you will be emailed a password and membership number within 48 hours of your purchase so that you can access and download the file. More information can be found on our Shop page and our Magazine page.
*Children younger than this will still enjoy the content of the magazine but will need an adult's help with the projects and reading.  Older children can still have a lot of fun with the content of the magazine also.